GARDENING Amelisweerd
Klik hier voor de Nederlandse website
From June 1st until July 31st 2022 Creative Coding Utrecht presents exhibition GARDENING Amelisweerd about humans, nature and tech at and around Landhuis Oud Amelisweerd.
Together with citizens, digital creators and activists equipped with technology, we're going to 'garden' and play the game of the elements. We'll enter into a playful and curious conversation with nature and we investigate the connection between man and nature through technology and spirituality. What does nature mean when we view it from the perspective of technology? What if we don't put humans first and give rights and voices to non-humans, like a river, robin or roma tomato? Through art and design, GARDENING makes our changing relationship with nature tangible and makes you aware of your and others' role in our ecosystem. All summer long at and around Landhuis Oud Amelisweerd.
The Landhuis is situated at Landgoed Amelisweerd, the perfect location to explore the themes of GARDENING. That's because Amelisweerd is never the same and yet in balance: nature grows, blooms and dies again. Protests against widening the A27 motorway show how connected we feel with its forests. We want to protect nature from human control, and at the same time human influence has become an integral part of our relationship with nature. With an exhibition and side-programming full of activities, GARDENING highlights the balance between nature, man, and tech.
GARDENING presents artworks by Carolien Teunisse; Chiel Lubbers; Christy Westhovens; Cream on Chrome; Driessens & Verstappen; Elaine Vis; Entangled Others Studio; Femke Bosma; FoAM, Kaffe Matthews & Mathijs Hasebos; fuse*; Jacqueline Wu; Jamie Nee; Jamie Nee, Jesse Averdijk, Pleun Gremmen, Robin Boonacker, Rots, Sjef van Gaalen & Theun Karelse; Katpatat; Lisa-Marleen Mantel & Laura Wagner; Neema Githere; Ryoichi Kurokawa; Špela Petrič; Thijs Biersteker; Zeno van den Broek & Robin Koek.
During the openingweekend there are extra activities and artworks to see, namely: Kop in 't Zand by De Goede Strijders, FOREST5X5 by Elza Berzina, Kunstmatig LIVE by Rosa Wevers and Veerle Spronck.
Tijdens het openingsweekend zijn er extra activiteiten en kunstwerken te bezichtigen, namelijk: Kop in 't Zand van De Goede Strijders, FOREST5X5 van Elza Berzina en Kunstmatig LIVE van Rosa Wevers en Veerle Spronck.
The exposition is made possible by Camille Barton, Landhuis Oud Amelisweerd, Grounded Festival, De Veldkeuken, Hoogt on Tour, Stimuleringsfonds Creatieve Industrie, Mondriaan Fonds, Pauwhof Fonds, Gemeente Utrecht, Utrecht 900, Fentener van Vlissingen Fonds, Niemeijer Fonds, Carel Nengerman Fonds, Prins Bernhard Cultuurfonds, Fonds 21, K.F. Hein Fonds, and Stichting Stokroos.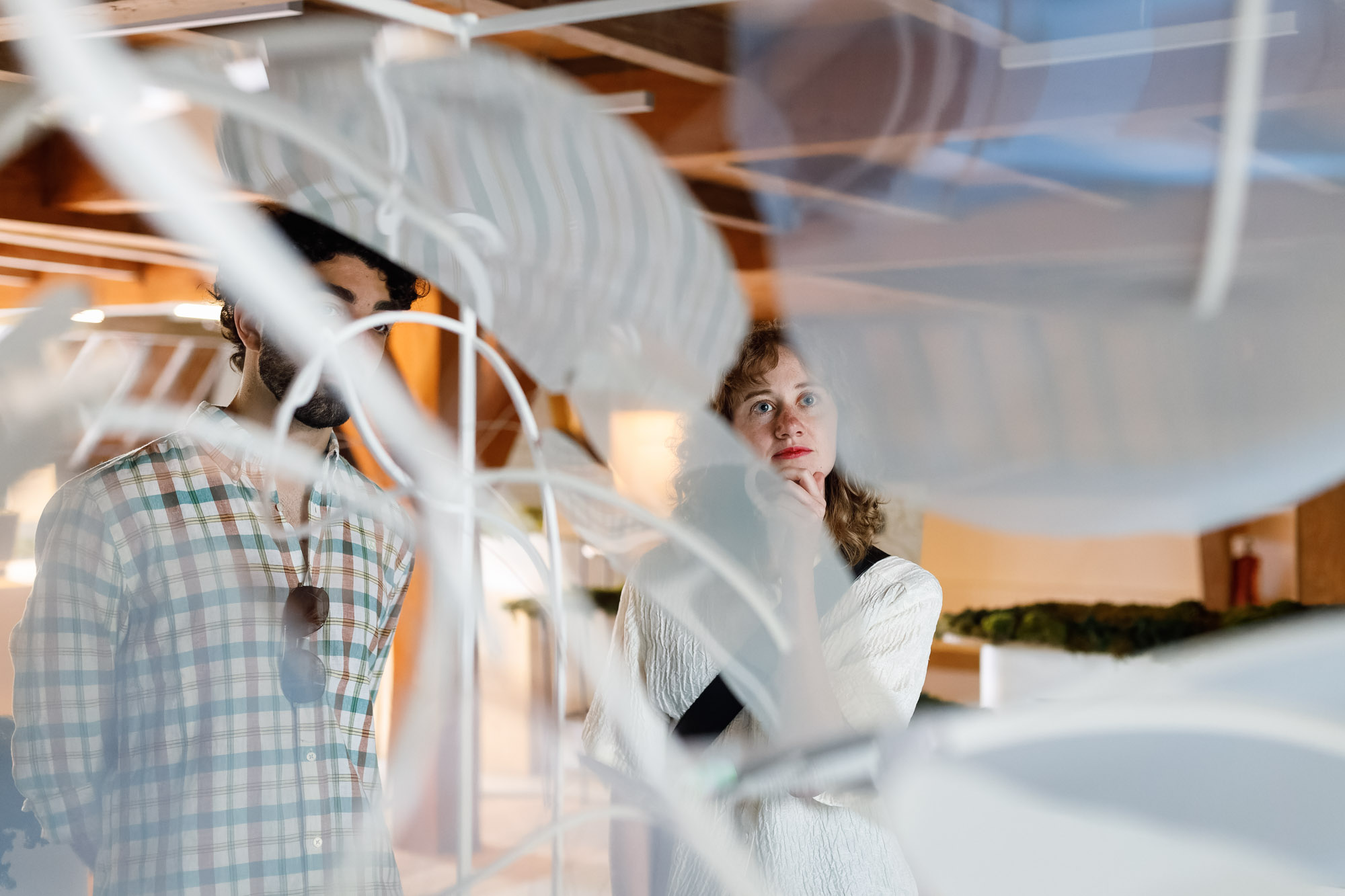 Practical information
Fee: on donation basis

⁠Date: 1st June to 31st July 2022

⁠Time: Wednesday until Sunday 11:00 - 17:00

⁠Address: Koningslaan 9, 3981 HD Bunnik
Accessibility
Landhuis Oud Amelisweerd is accessible to disabled visitors. There is a platform lift at the entrance and the stairs to the first floor have a chair lift. A wheelchair is also available.
How to get there
The Landhuis is easily accessible by car and public transportation. You can park for free in the parking lot at the beginning of the driveway. The driveway is car-free, except for bringing visitors who have difficulty walking. Furthermore, it is also possible to come by bus and train.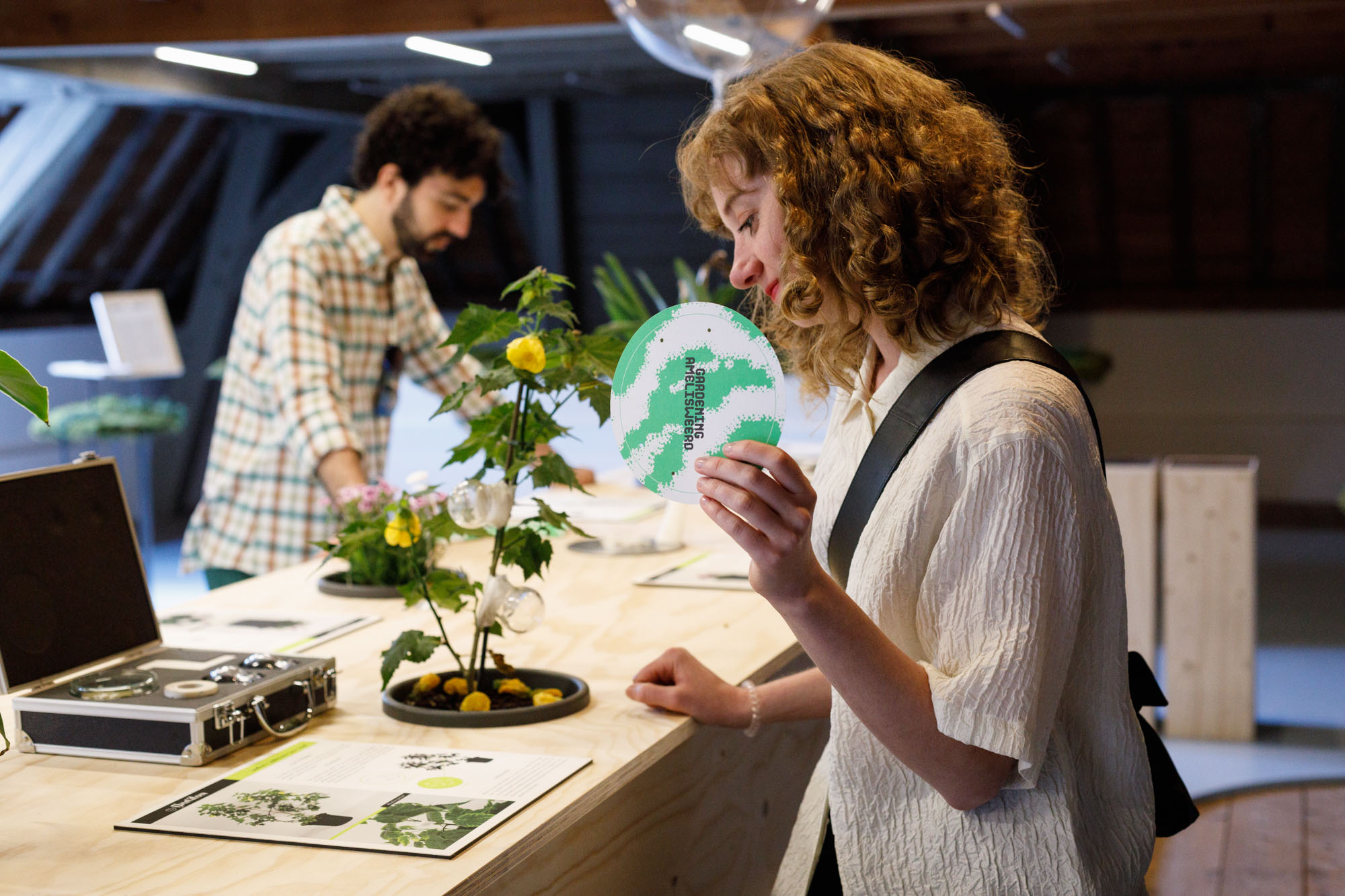 PROGRAMME
Side programme (interactive art, walks & tours)
Side programme (interactive art, walks & tours)
Besides the exhibition, GARDENING Amelisweerd offers a lot of extra activities around Landhuis Oud Amelisweerd and on the estate. Below you can find more information about these interactive art installations and walks.
Raumklang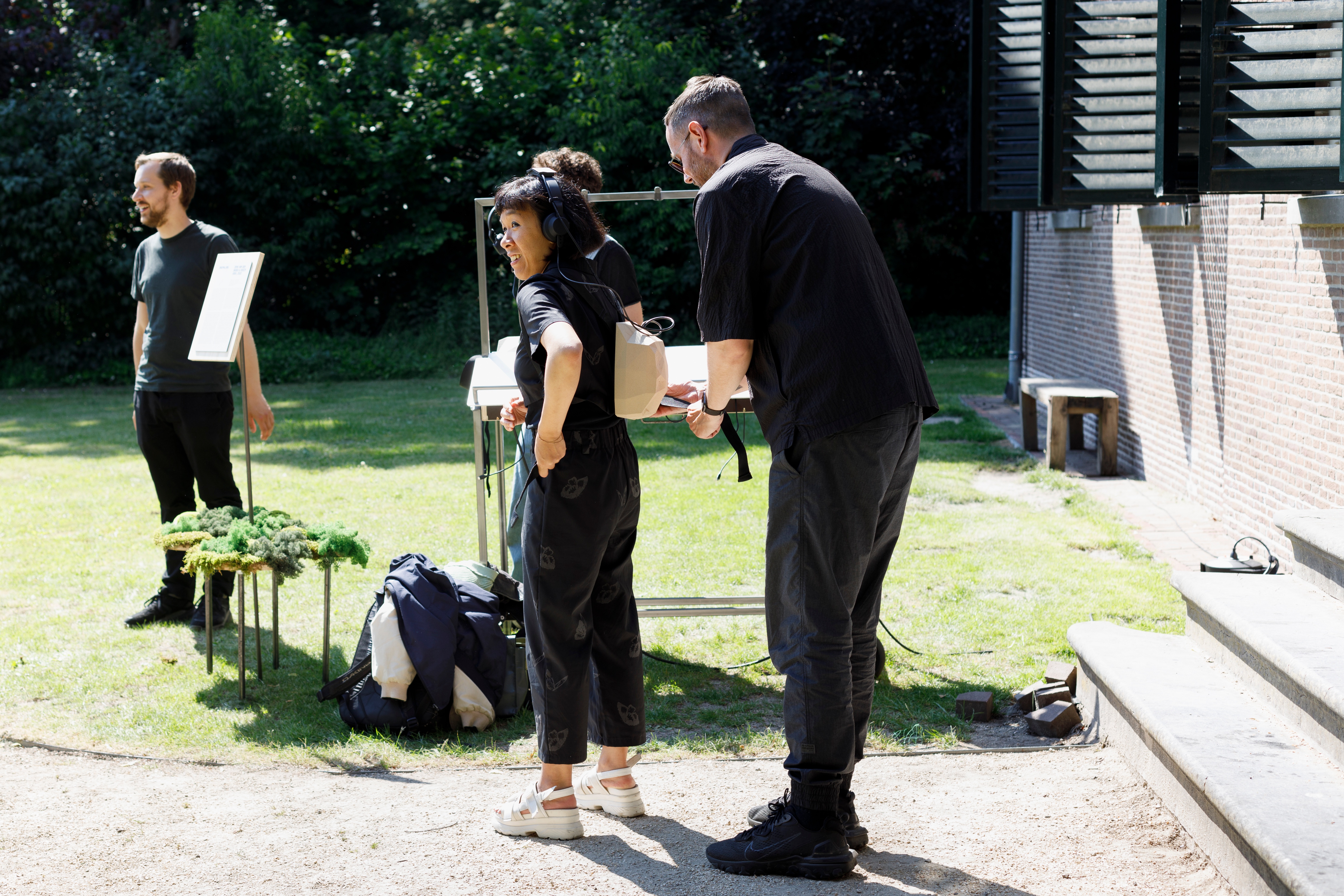 Open during dry weather on Friday, Saturday, and Sunday from 11:00 - 17:00. The art installation is close on rainy days.
Raumklang is a location-specific sound architecture, created and explored by multiple visitors simultaneously. The installation invites you to experience 4-dimensional objects in space, which are perceived through hearing; your perspective and auditory experience morphing constantly as you navigate your way around and through these invisible sonic objects. Through the distillation of acoustic properties, architectonic qualities, cultural history and activity on site, Raumklang becomes an instrument for cognitive extension. The sound-led navigation constitutes a heightened awareness of our relationships to the acoustic environment and the meaning of the particular sounds which normally remain subconscious. This edition for GARDENING renders inaudible natural worlds into the audible domain, sustaining new perspectives on the relationship between nature and the anthropocene.
Raumklang is supported by Mondriaan Fonds, Machinerie, AIAIAI, Stichting Stokroos, Stichting Niemeijer, Creative Fund NL and co-produced by Creative Coding Utrecht and V2_ Lab for the Unstable Media. 
Raumklang is created by Zeno van den Broek and Robin Koek. Zeno van den Broek is a Dutch composer and artist whose works investigate and unsettle the relationships between people and fabricated surroundings. He utilizes audio-visual means to create site- and concept-specific works which interrogate conventional conceptions of our experience of space. Robin Koek is an enterprising sound artist who aspires to nurture a new cognitive understanding of the world surrounding us mediated through art and education. His work reflects on the environment integrating field recordings and site-specificity in composition and installation practice.
All Year Round by Driessens and Verstappen
Open 24/7 until June 2023.
The Amelisweerd estate has a high ecological value and a rich biodiversity, which is expressed in characteristic landscapes and vistas. The artwork All Year Round adds an extra layer to the experience of these landscapes.
At four locations at Oud-Amelisweerd and Fort Rijnauwen, the difference in seasons is made visible on your cell phone. A QR code reveals the 360° landscape photo of the opposite season and as you look around, the image on the screen corresponds with the scenery behind. The phone thus forms a window on the surroundings, but from another season's perspective. The difference makes you aware of the powerful annual metamorphosis of our natural environment. The posts with the QR codes will stay in place for at least one year, so the work remains accessible beyond the GARDENING exhibition.
The locations can be found on the map below. You can also open them here on Google Maps.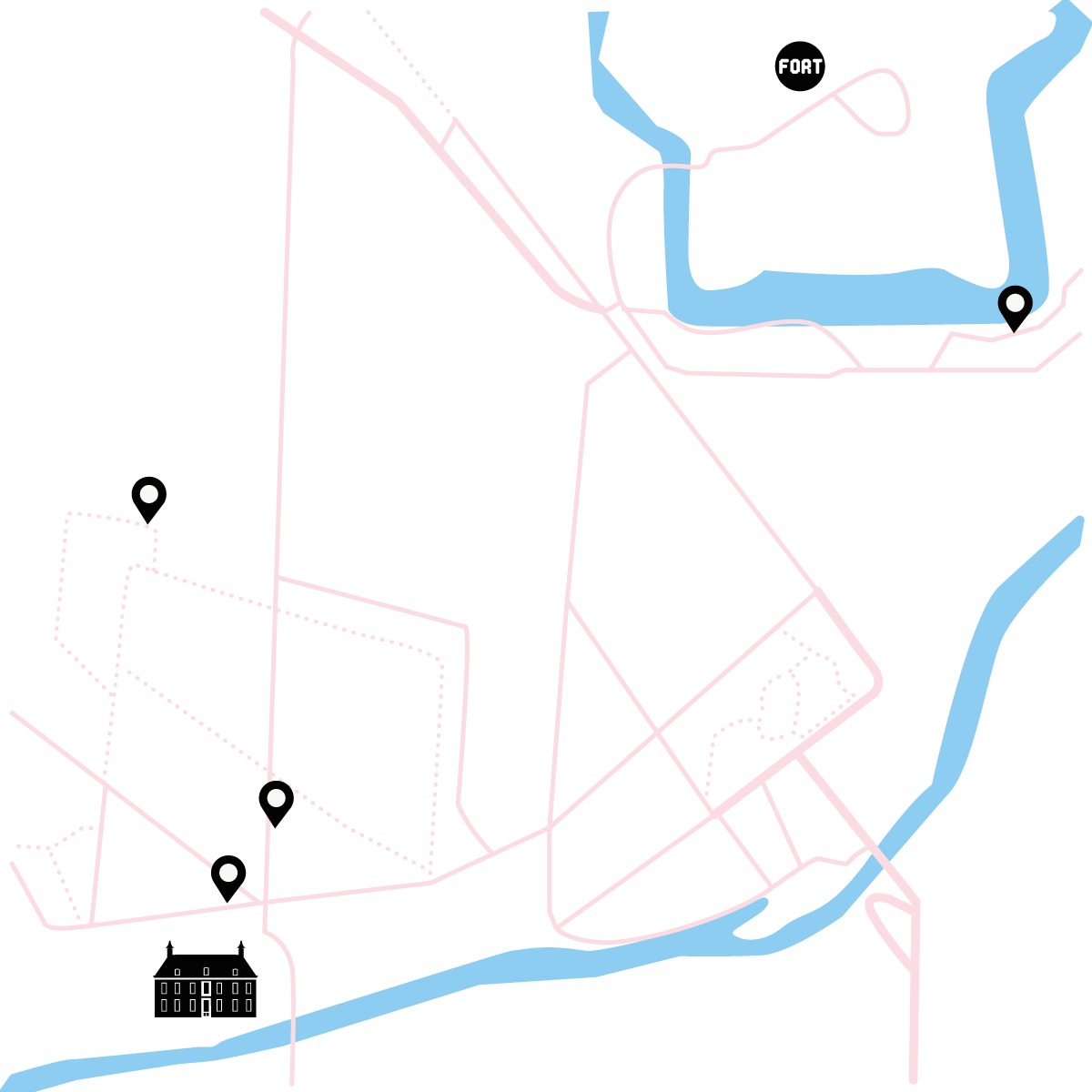 Het woud heeft oren by Femke Bosma
Open 24/7.
Het woud heeft oren is a Dutch audio tour.    
The Old Oak is the oldest tree of Amelisweerd. What if you could interview that tree? What memories are stored in the forest? During a walk through the forest you will be taken back to Amelisweerd from 1982. You will hear the stories of a number of people who were there during the felling. And which important events will The Old Oak experience in the future? What are activists preparing for?
Visit the startlocation, Landhuis Oud Amelisweerd, and start the audio below.
Monsterwalk
Open 24/7.
The artworks of MonsterCode in the exhibition consist of much more than just the works. You are also challenged to walk the Monsterwalk on Langoed Amelisweerd. Follow the 45 or 25 minute route and look for signs of the monsters! You might even come across a monster that has never been discovered before.... Flyers of Monsterwalk can be found in the MonsterCode room and downloaded here.
PROGRAMME
Movie night: Descending the Mountain
During this evening we will explore how psychedelics can impact collective healing and feeling one with our environment via talks, discussions, embodiment exercises and screening of documentary Descending the Mountain (2021).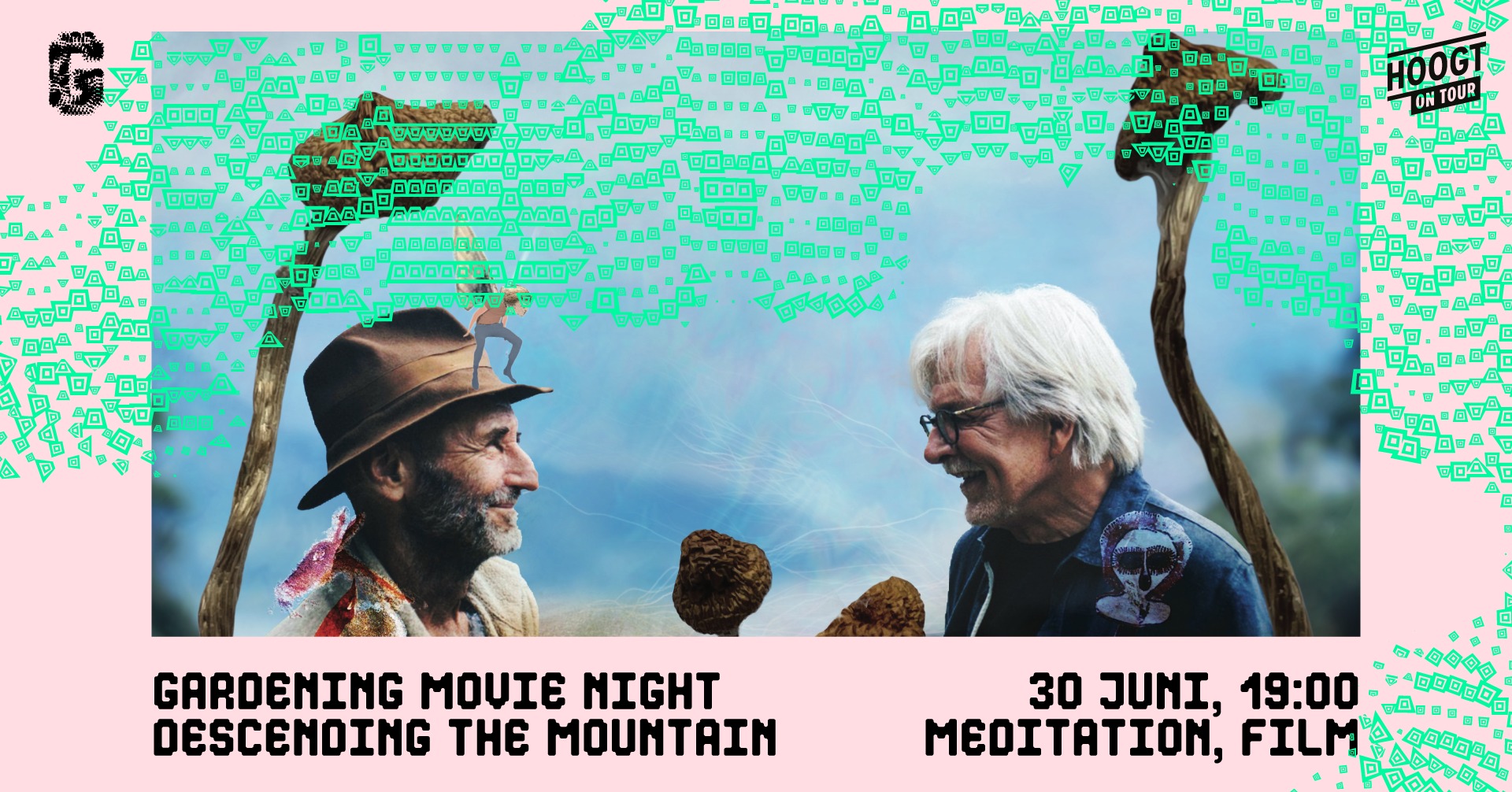 Movie night: Descending the Mountain
How can a shift in consciousness support us feeling one with nature?
Exhibition GARDENING emphasizes how we are intertwined with nature. During this evening we will explore how psychedelics can impact collective healing and feeling one with our environment via talks, discussions, embodiment exercises and screening of documentary Descending the Mountain (2021). We invite you to have dinner with us at restaurant De Veldkeuken beforehand.
Artist and educator Camille Barton will start with an introduction about psychedelics and the shift in consciousness they can cause, explaining how this shift can also be generated with embodiment work. To give us an experiential sense of this shift in consciousness, they will lead (optional) embodiment exercises.
Next, we will screen the dreamy documentary Descending the Mountain (2021), directed by Maartje Nevejan. This film is about what a shift in consciousness caused by psychedelics can teach us about the mystical experience of oneness with nature.
Afterwards, Camille Barton and Maartje Nevejan will have a Q&A, and we will close the evening with a collective exercise: everyone is invited to share their thoughts on the influence of psychedelics on collective healing.
About the speakers
Camille Barton is an artist and educator who explores creative interventions that sustain life. Rooted in Black Feminism, ecology and harm reduction, they use creativity as a means to grow the more beautiful world our hearts know is possible.
Maartje Nevejan is an award-winning independent filmmaker (based in Amsterdam), with a background in theatre and multimedia. Her work researches and expresses the raw poetic quality of reality. She brings together unexpected groups of people, from all walks of life – holding & inspiring their often-contrary views into unexpected forms of creativity.
About Descending the Mountain (2021)
78 min. // in English & German // Dutch subtitles
What happens if you give magic mushrooms (psilocibine) to experienced Zen practitioners who have never used drugs? What does that teach us about the mystical experience of oneness with nature? Based on these questions, psychiatrist Franz Vollenweider and Zen master Vanja Palmers set up a legal science experiment in a monastery at the top of Mount Rigi in Switzerland. Exactly 50 years after the magic mushrooms were officially banned, a new story begins in what is now called the "psychedelic renaissance". While in 2021 most studies with psychedelics mainly focus on their promising medical applications, Frans and Vanja are already going a step further. Can the combination of meditation and psilocibin help humanity get out of the mess we have created on ourselves and the planet with our neo-liberal society?
Practical information
When:             June 30

Time:              with dinner 17:30-21:00, without dinner 19:00-21:00

Where:            De Veldkeuken, Koningslaan 11 A 3981 HD Bunnik

Fee: Without dinner €12,50

Dinner reservations: You can reserve dinner by e-mailing amelisweerd@veldkeuken.nl or calling 030-7610877. Additional price for
dinner: €20,- paid at location.
Disclaimer
Nothing consumed during this evening is psycho-active and although some experiences may create a shift in consciousness, you will at no point be under the influence of any drug or substance.
PROGRAMME
GARDENING in the classroom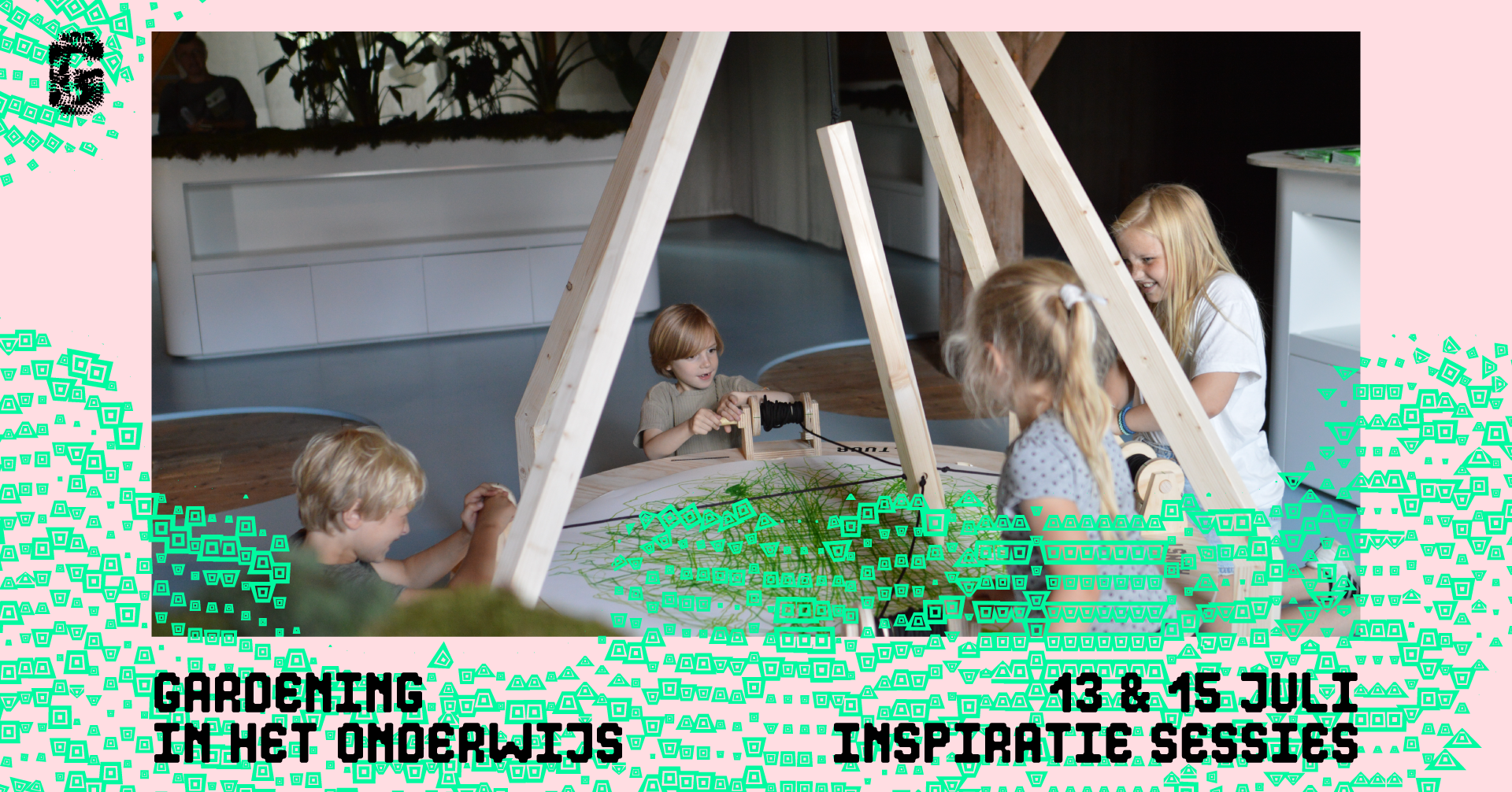 GARDENING in the classroom
This programme is only available in Dutch.
PROGRAMME
Workshop: What would people look like if...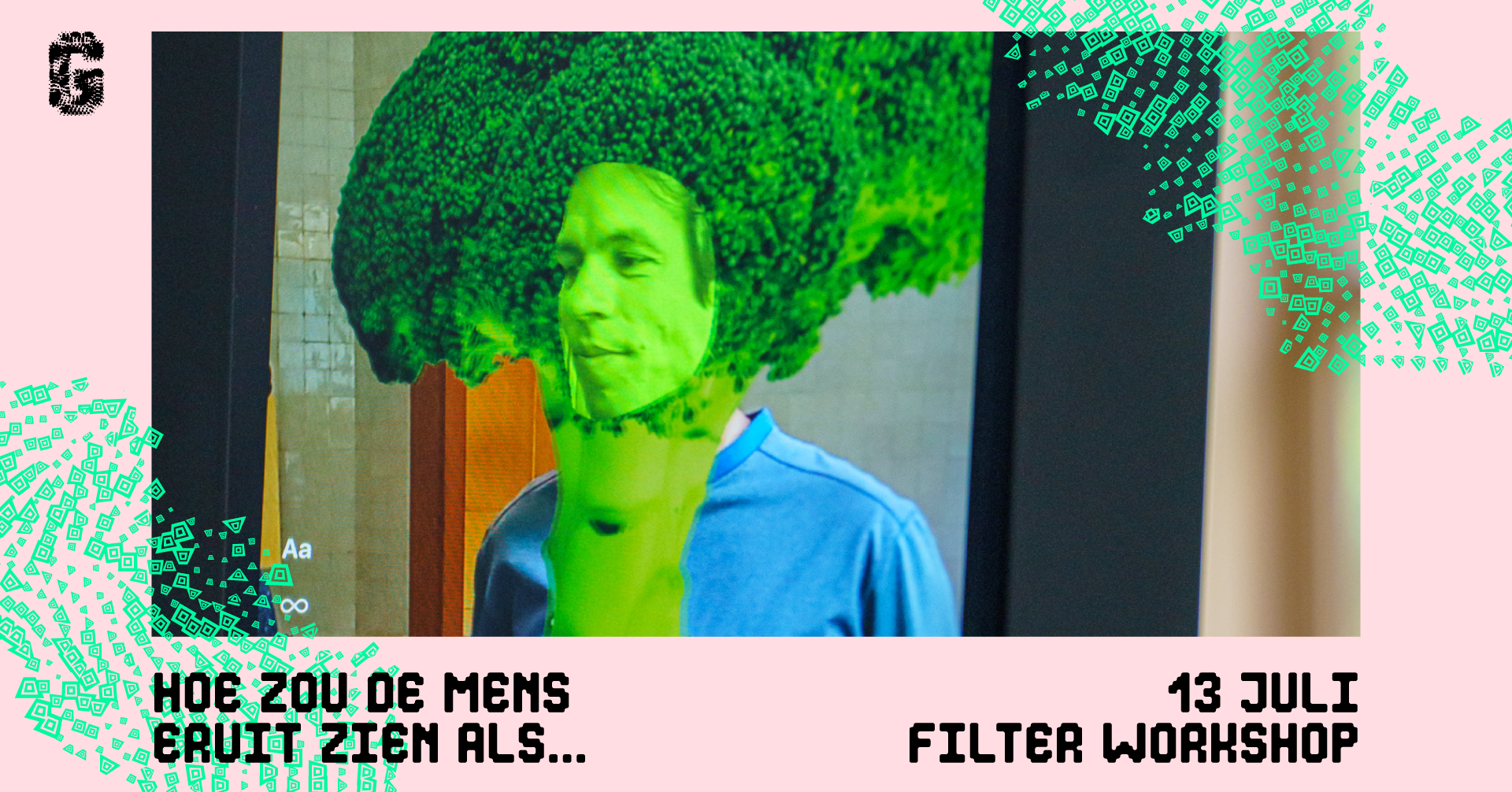 Workshop: What would people look like if...
The Utrecht-based collective Katpatat is exhibiting the work LEGUMES during the exhibition GARDENING. With the theme "man in relation to nature," Katpatat posed the question, "What would people look like if they were a vegetable?" What will the world look like next, what will people eat and how will people react to other people?
Katpatat invites you to also think about what you would look like by making your own face masks during this open workshop.
The workshop is free and is especially for young people from 12 to 21 years old. It takes about 15-30 minutes and can be combined with a visit to the exhibition.
Date: July 13
Time: 13:00 - 16:00
What: Open walk-in workshop, no signup required.
PROGRAMME
Walkshop: Co-mapping Amelisweerd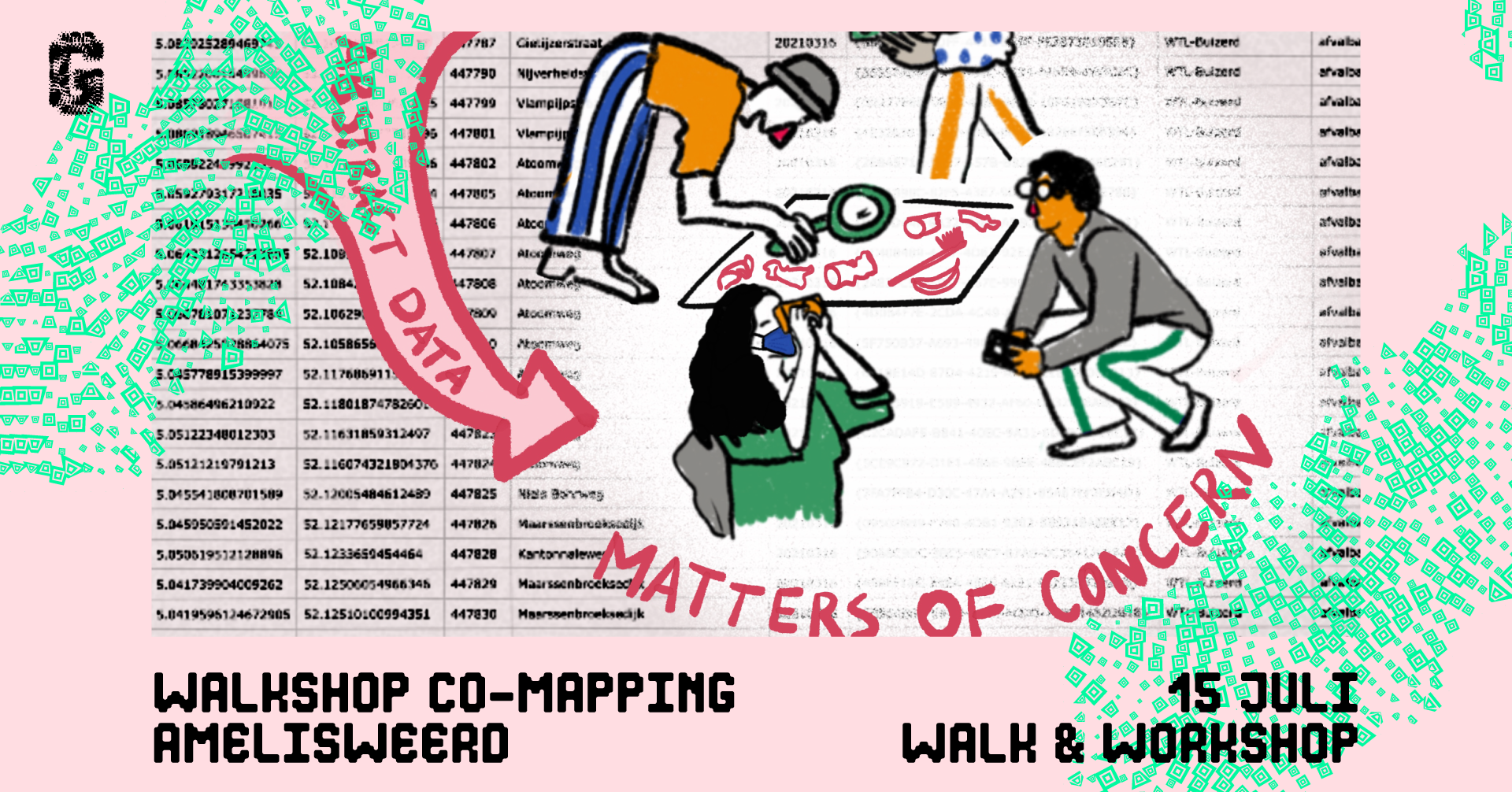 Walkshop: Co-mapping Amelisweerd
Explore and map different meanings and perspectives of 'positive health' at the forest of Oud Amelisweerd.
The project addresses the participation of citizens in imagining and shaping sustainable urban futures, focusing on the ecologies of Amelisweerd. How can we use data and other creative participatory methods to engage with the human & more-than-human aspects. Do you want to add yours?
By taking part in this walk-shop (a walk combined with a workshop), you will have the opportunity to learn about different perspectives of positive health in the forest, get to know other communities in the area, and start imagining what a shared vision for Oud-Amelisweerd may look like. The walk-shop will also give you an insight into alternative ways of learning through creative methods: it is focused on experiential and embodied knowledge production, which can trigger creative thinking and problem-solving by shifting perspective or seeing what we may already know in a new light.
14:00 - Welcome and introduction
14:30 - Data Walk
15:30 - Co-mapping workshop
16:30 - Reflection and drinks
PROGRAMME
COMPOSTING Amelisweerd: Workshops & Talks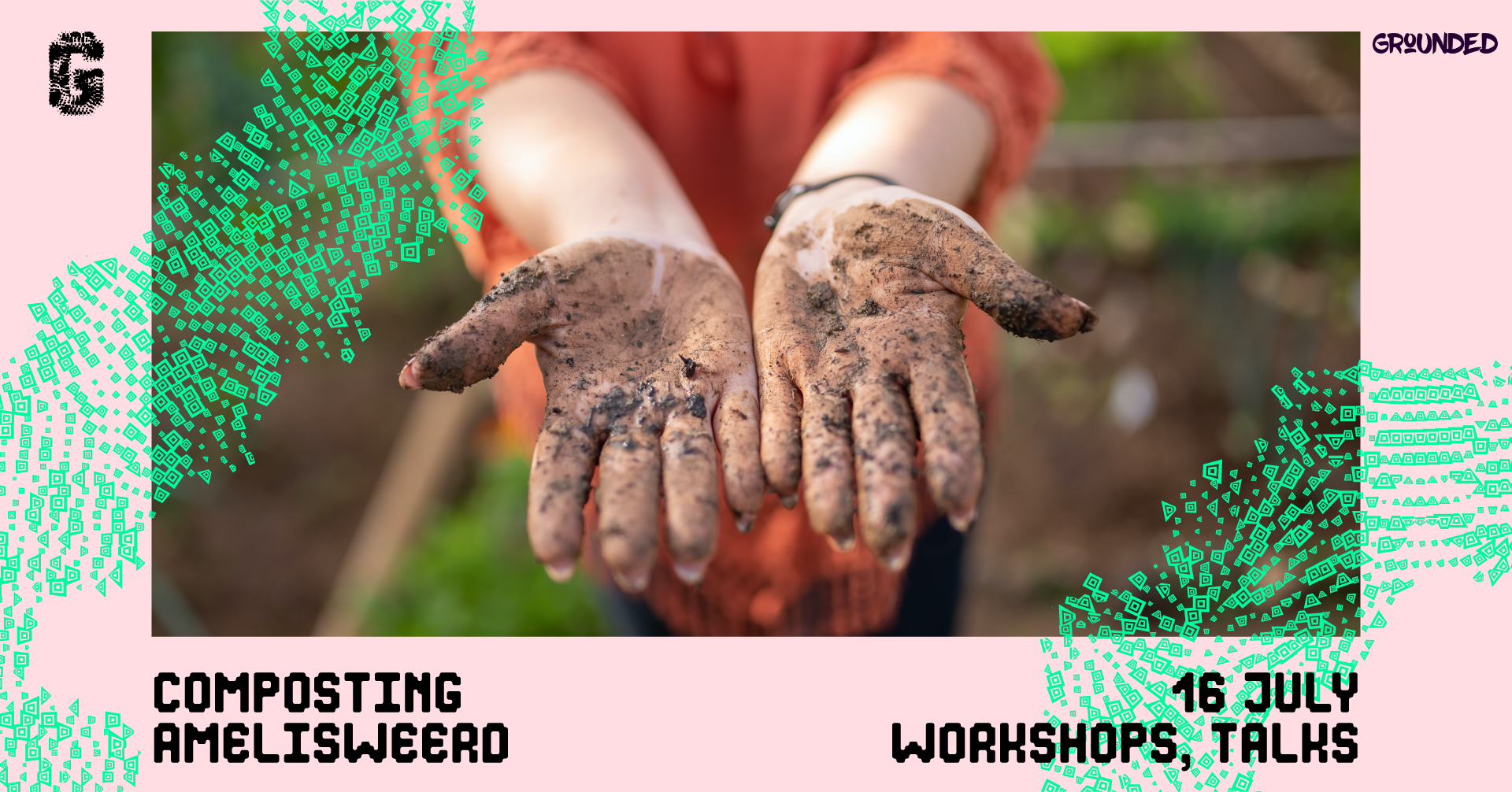 COMPOSTING Amelisweerd: Workshops & Talks
Creative Coding Utrecht and Grounded present COMPOSTING: a day full of inspiring lectures, stimulating workshops on composting, fermentation, digital art and activism, and special food experiences.
Come ground, root and flourish with us. During the morning, three lectures will give a voice to the non-human perspectives of our environment. After a lunch grown and provided by Grounded, we offer a number of workshops: learn to compost with maker-activist Jamie Nee, composting language with designer Rosalie Bak or learn to climb trees with action group Amelisweerd niet geasfalteerd.
We will end the afternoon with a collective dining experience facilitated by artist Mattia Papp. Through an edible landscape, he will explain the art-historical significance of various ingredients in Renaissance paintings and the dining experience itself: from Memento Mori to Memento Wormi.
PRACTICAL INFO
Where: Fort Lunet I
When: July 16th
Time: 10:00-18:00
Tickets: regular: €40 (including lunch, workshops and food experience), students: €20
Link: https://ccu.stager.nl/web/tickets/111198443
No money, but would love to participate? Creative Coding Utrecht and Grounded value accessibility for all, so send us a message and we'll figure something out: am@creativecodingutrecht.nl
About the workshops & talks
Workshop Composting by Jamie Nee
Activist and illustrator Jamie Nee is fascinated by the process of symbiosis in the garden. How do you create the ultimate collaboration between plants and soil organisms that together create a beautiful balance and fertile soil? Jamie tries to get a lot of fungi in his garden and does workshops around fungi and has made a kit for a worm hotel, because worms play an important process in the ecology of the soil. During the workshop, Jamie will give a workshop on composting. Grounded's food forest and compost pile are the example through which we will unravel the secret underground process of soil organisms.
Workshop Tree climbing by Amelisweerd niet Geasfalteerd
Amelisweerd niet Geasfalteerd opposes the widening of the A27 motorway that runs straight through Amelisweerd. For the widening hundreds of trees have to be cut down. The trees in the forest cannot protect themselves from bulldozers and chainsaws. That's why we will do it if it's necessary. If the minister goes ahead with the plans, despite the opposition of local residents, province and municipality, we will go up the tree to stop the felling with our bodies and our voices.' On July 16 the action group organizes a climbing training in the Marquesas forest in New Amelisweerd for anyone who wants to help preserve the forest.
During the climbing training you will learn how to get in and out of a tree safely via a rope. You will also learn how to tie the most important knots and other important things you need to know when participating in a forest occupation. Climbing harnesses and helmets will be provided. Please note that space is limited! We do our best to teach as many people as possible the ropes of climbing, but you may have to wait a while or (unfortunately!) come back another time. We have a big action day planned on September with more climbing training.
Workshop Necro Ecology / Composting Principles - Rosalie Bak
Within this workshop we will gather and play with various 'composting principles' and processes. By means of enactment, experiential drawing and (un)writing we will mimic, make visible and collectively explore how we can come to understand - through making and doing - this process of unmaking matter in the naturalworld. In doing so we will weave a new lexicon of words, worlds and meanings with the aim to open up our thinking about necro-ecology and death-care in the (post) anthropocene. A collective making and (un)understanding session.
Within ecology composting is defined as "the biological degradation process of heterogeneus solid organic materials under controlled moist, self-heating, and aerobic conditions, to obtain a stable material that can be used as organic fertiliser". When taking apart this method and sentence one can imagine how this same sequence of words in reduction (the...degradation ...of materials ...under ...controlled condition ... to obtain ...material ... that can be used as ...fertilizer) could be eventually be regenerated to mean: the wilful act of degrading and ruining materials, ideas and objects under predefined conditions in order to come to parts out of which altered materials, ideas and objects can emerge anew. In this example the text underwent the same composting process as it was describing. The degrading of words in a sentence, in order to make space for the insertion of new words and thus meanings: A 'composting principle'.
Garden of Primavera by Mattia Papp
"Garden of Primavera" is an artwork in which food is used as a medium. The artwork is made out of bread to resemble ground and moss, topped with fruits, vegetables and other gifts from the soil. This will be reconstructed for visitors to enjoy the fruits of the soil. A return to a dimension of Arcadian existence in which humanity can pick and enjoy food directly from the ground. With this work I merge my research of visual harmony as a painter and my practice as a food designer, seeking the perfect balance between these disciplines.
Botticelli's Primavera as well as Mattia Papp's garden project are based on the principles of Neoplatonic philosophy, widespread at the court of Lorenzo the Magnificent: art must represent the ideal of a perfect world, and the beauty of forms is an expression of harmony and spiritual perfection. According to this interpretation of Botticelli's "La Primavera", the passage from earthly love to spiritual and contemplative love, through the mediation of the goddess Venus.
Get your tickets below right here or visit the ticketshop.
PROGRAMME
Guided tours through the exhibition
Guided tours through the exhibition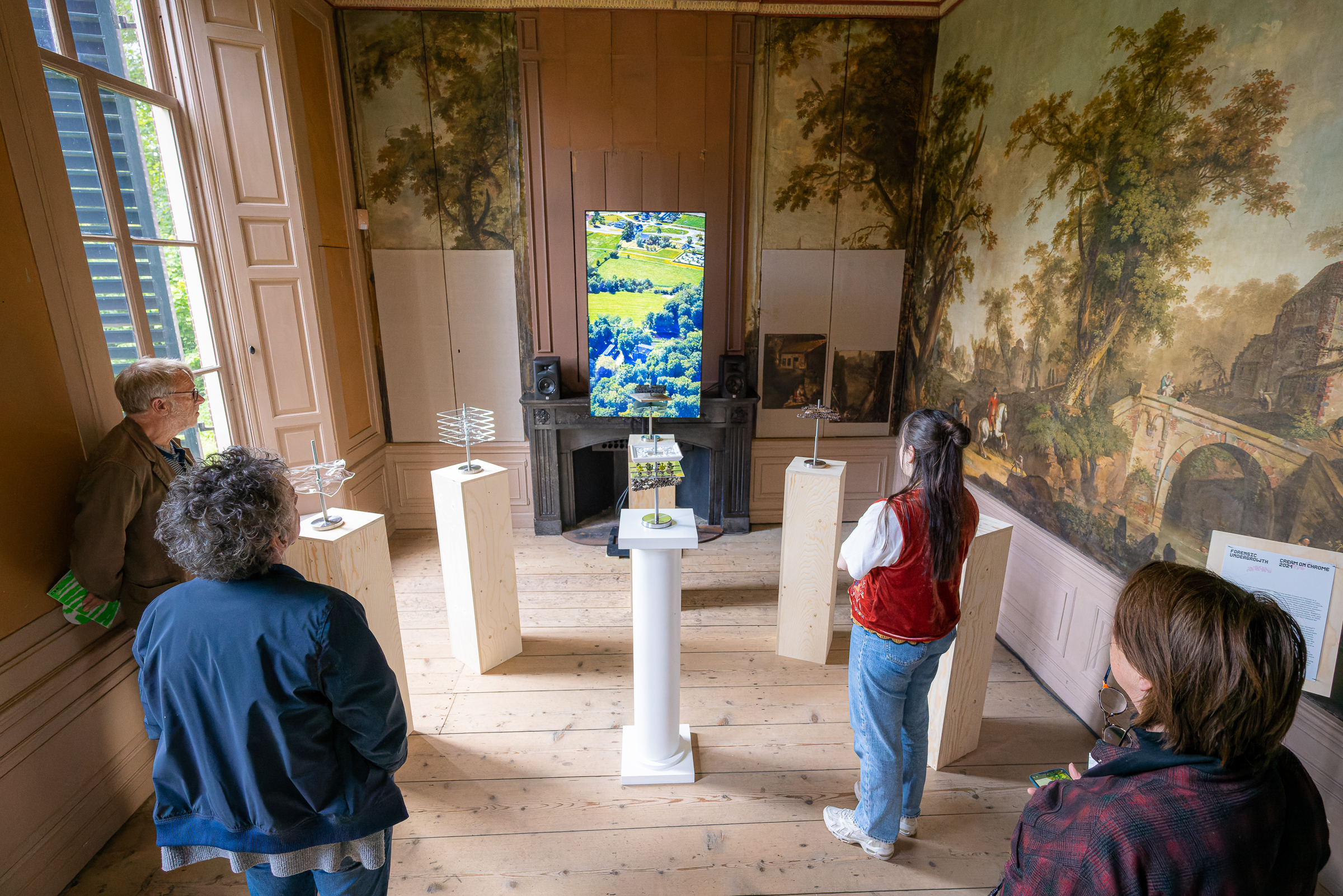 Curious about your place in the ecosystem? Curator and initiator of the exhibition GARDENING Fabian van Sluijs will guide you through Landhuis Oud Amelisweerd and make you aware of your role in the balance between humans, technology and nature via the artworks. What if we give voices to non-human perspectives? What forces have shaped our landscape over the years? Can we still distinguish between untouched and cultivated nature?
All works in the exhibition are carefully selected and together form one ecosystem. Using hole puncher and punch card, at each work you are invited to reflect on the question: to what extent does it belong to art, culture, analysis or technology? At the end of the tour, we reflect on how we are part of the exhibition GARDENING and all nature surrounding it.
Practical information
Where: Landhuis Oud Amelisweerd
When: June 23rd, 30th and July 14th
Time: 14:00-14:30
Price: Access to the landhuis on donationbasis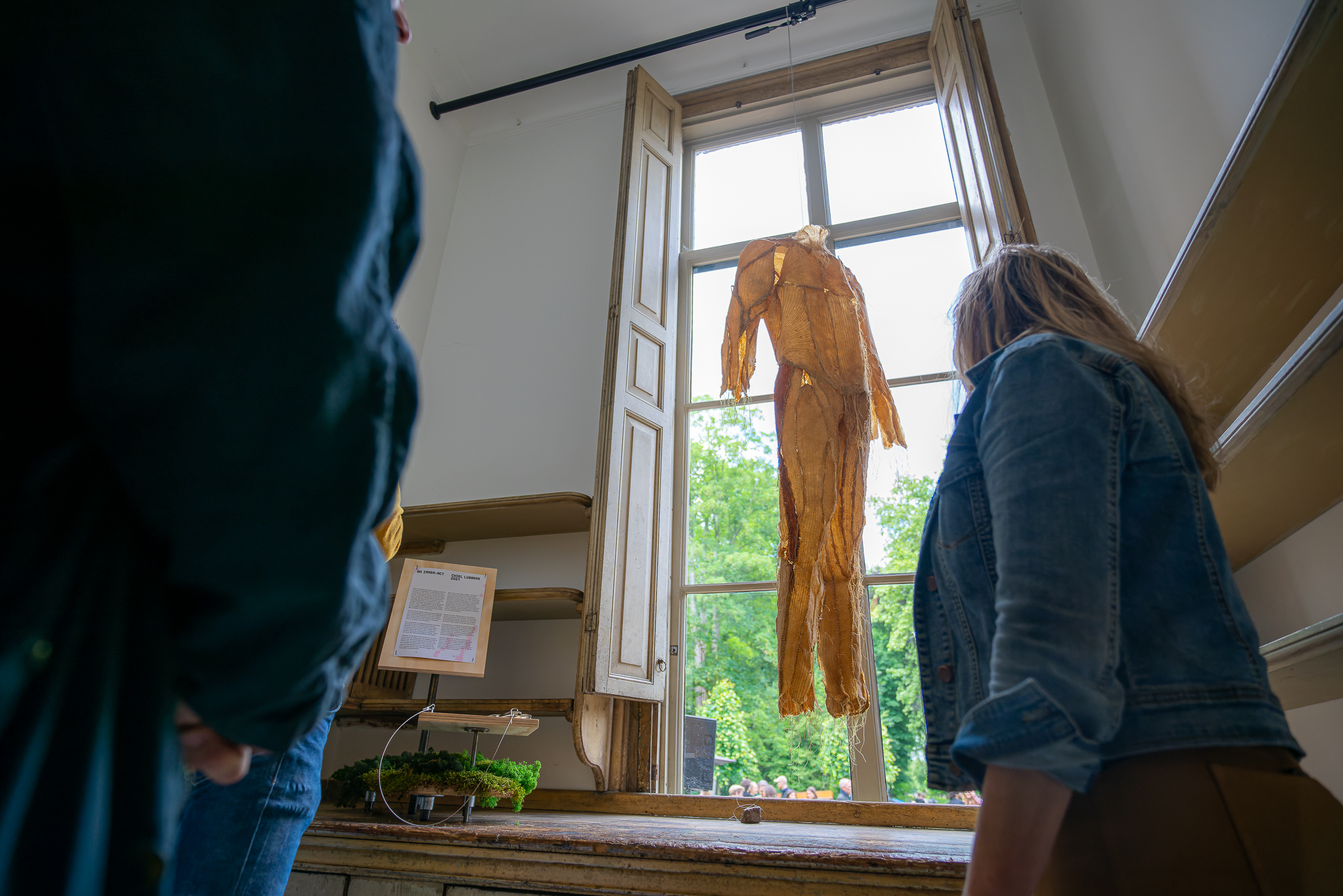 PROGRAMME
Activities for schools
Activities for schools
This part of the programme is only available in Dutch.
PROGRAMME
Press information
Press information
GARDENING Amelisweerd is an exhibition about nature and technology. The exhibition is organized by Creative Coding Utrecht and Landhuis Oud Amelisweerd.
You can contact our press team via press[@]creativecodingutrecht.nl
Find the press folder with more information and photos -> press folder here.
Follow GARDENING Amelisweerd on Facebook en Instagram.
Creative Coding Utrecht
Creative Coding Utrecht (CCU) is the platform for digital creativity. CCU stimulates creators, connects organizations and sectors, inspires audiences and shares knowledge with hobbyists and ict-professionals.  At CCU you'll find possibilities from a first exploration of creative coding, to deepening the artistic practice of professionals.
Follow CCU on Facebook, Instagram, Twitter or de website.
Landhuis Oud Amelisweerd
Landhuis Oud Amelisweerd with coach house and park is one of the most extraordinary national monuments in the Netherlands. Especially because of the present Chinese paper wallpaper from the 18th century. Landhuis Oud Amelisweerd gives space to individual makers and organizations to provide changing exhibitions and programs for a diverse audience. It provides space for contemporary art, showcases its rich history and gives makers the opportunity to create and be inspired.
Follow Landhuis Oud Amelisweerd on Facebook, Instagram or the website.